Sand Casting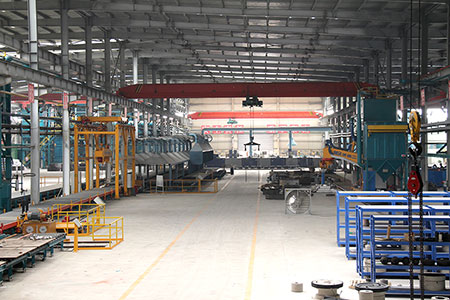 Sand casting is a traditional casting process in which molten metal is poured into a mold made from sand. Because of the flexible characteristics of sand casting, it is used to create a variety of parts with complex geometries, and it is compatible with nearly any alloy. Sand casting is not limited by the size, shape, or complexity of the cast parts. It is also a low-cost casting option with a short production cycle.
The steps of the sand casting process include: Create a mold form in sand, set up the gating system, remove the mold pattern, pour molten metal into the mold cavity, wait for the metal to cool, break open the mold to remove the metal casting, finishing processing.
Mold-making

Sand mold making involves placing a mold pattern blank, packing the sand tightly and removing the blank before pouring molten metal into the newly formed mold.

Sand casting is an expendable process in which the mold is used up by the casting process. Identical molds can be re-formed but sand casting is preferred by manufacturers who are not making large batches of products.

Any internal features of a casting that cannot be formed by the pattern, are formed by separate cores. Thus, the cores are usually produced with sands before making the mold. Mold-making time is subject to the size of the part, the number of cores, and the type of the sand mold.

Clamping

Once the mold has been completed, the molten metal must be prepared. Firstly, lubricate the surface of the cavity to facilitate quick removal of the casting. Then, place the cores and close the mold halves and securely clamp them together. It is extremely important to keep the mold halves firmly closed to prevent material loss.

Pouring

The molten metal is kept hot in a furnace at a set temperature. After clamping the mold halves, take the molten metal from the furnace and pour it into the mold. There should be enough molten metal to fill the entire cavity and all channels in the mold. This process must be completed quickly to prevent early solidification.

Cooling

Once the molten metal flows into the cavity, it begins to cool and solidify. The mold cannot be opened as long as the cooling process does not end. When the cavity is fully filled and the molten metal has solidified, the final shape of the casting forms.

Most of the possible causes of defects occur during the solidification process. The cooling time could be estimated by the wall thickness of the casting and the metal temperature. If some molten metals cool too fast, the part may shrink, crack, or you may find incomplete sections.

Removal

After the preset solidification time has passed, you can break the sand mold and simply remove the casting. This step, often called a shakeout, can be completed with a vibrating machine. Once the casting is removed, shot blasting can be applied to eliminate residual sand, thereby reducing surface roughness.